Q. What is the 3% Stamp Duty surcharge?
A. It's a 3% loading on existing Stamp Duty rates, which are set out on the table below:

Q. Who has to pay it?
A. Anyone who is buying additional residential properties, for example a holiday home or buy-to-let, within England, Wales, Northern Ireland and - under a separate announcement in the Scottish Government's Budget - in Scotland too.

The surcharge applies even if the home you already own (or part-own) is overseas. So, if you have a ski chalet in Bulgaria and are buying your first home in the UK, you'll still be stung with the extra tax.
Q. When did it kick in?
A. The new surcharge took effect from 1 April, 2016, but was first announced in the Chancellor's 2015 Autumn Statement Spending Review. If you wanted to avoid paying it, you had to complete (not just exchange) on any second home purchase by midnight on 31 March, 2016 (unless you had already exchanged on or before 25 November, 2015, the date when the new tax was announced in the Chancellor's Spending Review).
Q. How is the tax charged?
A. Regular Stamp Duty is, these days, charged on a tiered basis (so you only pay the higher rate on the slice above any threshold – the same as income tax). But the 3% surcharge still effectively works as a slab tax. In other words, the 3% loading applies to the entire purchase price of the property.
Q. How much does that translate into?
A. As an example, if you are buying a second home with a purchase price of £300,000, just the extra 3% Stamp Duty would equate to £9,000 (3% of the entire price). This is in addition to the £5,000 regular Stamp Duty bill on a home of this value, making the total payable an eye-watering £14,000.
Q. What if the home I am buying will be my main residence?
If the home you are buying directly replaces your main residence, you will not be liable for the 3% surcharge, even if you own an additional home/s at the same time. This example is straight from the Government's consultation document:
"A owns both a main residence and a second home. She sells her main residence and purchases a new one. Although she has two properties at the end of the day of the transaction, she has replaced her main residence so the higher rates will not apply."
But the Treasury says that moving out of rented accommodation does NOT constitute a main residence. Your last residence will need to be disposed of (ie, sold) to escape the surcharge. Gifting a property however, DOES constitute disposing of your main residence. 
Q. What if I need to buy another main residence before I can sell my last one?
A. If you move out of your main residence (Home A) but keep it and buy another main residence (Home B), you will have to pay the 3% Stamp Duty surcharge initially. However, so long as you sell Home A within 36 months (increased from 18 months in the March 2016 Budget) of completing on the purchase of Home B, HMRC will make a full refund. 
If you sold your main residence before 25 November 2015, you will have longer to buy a new main residence before being charged the higher rates. In this case, the clock will start ticking on the 36-month period, from either 25 November OR the date you sold your last main residence - whichever is later.
Q. What if I sell my main residence but I'm not able to buy another one straight away? 
A. In some cases, (for example, if you are moving back to the UK after living abroad), you may have to sell your main residence but move into a 'stop gap' before you can buy a new one. In this case, you will offered a 'grace period' of 36 months (increased from 18 months in the March 2016 Budget) during which time the purchase of your next main residence will not be subject to the 3% surcharge.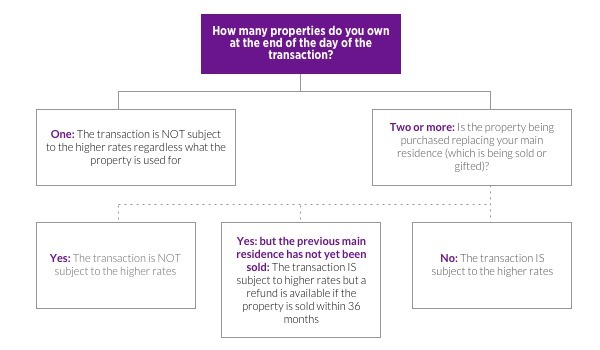 Q. What if I already own a property, but I'm buying with someone who doesn't? 
A. Unfortunately even if just one of you already owns a home, when you are buying another one together, the 3% Stamp Duty surcharge will apply. 
Ray Boulger, senior technical director at mortgage broker John Charcol said that, for couples NOT currently living together, it may be possible to get around this by putting the new home solely in the name of the partner who doesn't already own:
"If you can't satisfy the lender's affordability criteria in just one person's name, some lenders such as Metro Bank and The Woolwich, allow two names on the mortgage, while putting just one on the property deeds."
However, HMRC tax avoidance provisions will catch out couples who are already living together - even if they are unmarried.
Q. What if I am getting divorced but my name is still on the deeds of my family home?
A. If you are separated or getting divorced and want to buy a new home to live in but your name is still on the deeds of the family home (which is NOT being sold), this will constitute buying an additional property which means the 3% surcharge will apply. 
Q. What happens if I'm separated but still legally married?
A. After the March 2016 Budget, the Government confirmed that married couples who are living separately in circumstances that are likely to become permanent will NOT be treated as one unit for the purposes of the 3% surcharge. In other words, if you are buying a home that only incurs the 3% surcharge on the basis of your legal spouse's situation, you won't have to pay it.
Q. Can I avoid the surcharge by setting up a limited company? 
A. The Government has a keen eye on preventing tax avoidance with this new levy, so you won't be able to escape the surcharge by setting up a limited company for the purpose of buying an additional home or homes. We're currently waiting on more information from the Treasury on how this will work for existing limited companies.
Q. What if the home I want to buy has a 'granny annexe'?
A. The surcharge only applies if the annexe is a separate home with a value of more than £40,000 and could be bought by a third party.
The Treasury says: "To be a separate dwelling, the unit will have all the facilities one would expect in a home, including, for example, a kitchen, bathroom and bedroom. It should also be capable of a separate sale." 
Q. What if I am a major property investor?
A. It was confirmed in the 2016 March Budget that major investors in residential property will be liable for the 3% surcharge. In its initial consultation, the Government had earmarked 'bulk buyers' of 15 or more residential homes for exclusion as they were deemed to be 'contributing towards new housing supply'.
Q. Can I just omit to mention to my solicitor about the fact I already have a home?
A. HMRC has instructed the country's solicitors and property lawyers to ask buyers the question outright of whether they already own another property. If you don't answer truthfully it's tantamount to fraud - penalties for which could be a lot worse than a 3% Stamp Duty loading.
Q. Are there any exemptions?
A. You won't pay the 3% Stamp Duty surcharge on second homes that cost less than £40,000 , or on caravans, mobile homes and houseboats. 
Social landlords and charities won't be charged the 3% loading.
And, while it's not an exemption, it's worth noting that if you pay Capital Gains Tax on the sale profits of an additional home, you can offset the cost of the 3% Stamp Duty surcharge against your bill.
Q. What if I inherit my property?
No Stamp Duty is payable on properties that are inherited, so the 3% premium will not be relevant. However, if you have inherited a property and go onto purchase a second home without selling it, you will be hit with the surcharge.
The March 2016 Budget did hold some reprieve on inherited properties however. The Government confirmed that a small share (50% or less) in a single property which had been inherited within the 36 months prior to buying another home (which would otherwise attract the 3% surcharge) will NOT be considered as an additional property. 
Q. Is all this set in stone?
The Government's consultation on the surcharge and how it will work closed on 1 February. The final policy design was announced in the Chancellor's Budget on 16 March.
Q. What's Zoopla's view?
The Chancellor's decision to go ahead with plans to introduce a further 3% increase in Stamp Duty on buy-to-let properties and second homes, is the latest in a series of short-sighted policies aimed at the property market. 
Zoopla's Lawrence Hall said: "The Stamp Duty on buy-to-let properties will ultimately make renting more expensive – which in turn eats into people's ability to save towards a deposit. In an attempt to reduce demand by some buyers, it ignores the fact that the private rental sector provides is an essential service for millions of adults who are happy to rent, especially in their 20s and 30s."     
COMMENTS DO NOT CONSTITUTE FINANCIAL ADVICE AND ARE PROVIDED FOR GUIDANCE ONLY.